Books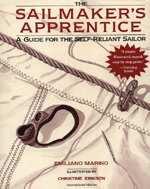 Sailmaker's Apprentice, by Emiliano Marino

PB, 7 1/2 x 9 1/4, 480 pp., index, 1994. There is little about desgning, making, repairing or improving sails that this book doesn't cover. More than a comprehensive apprenticeship, it is also a wonderfully illustrated examination of the world's rig and sail types, both contemporary and historical. 513 illustrations, lively, thoughtful text.
---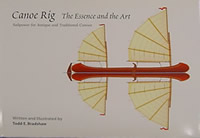 Canoe Rig: Essence and the Art

HC, 280 pp., index, 2000. All the information needed to build sails, spars, leeboards, centerboards and much more for canoes and light sailing craft. The illustrations are truly wonderful.
---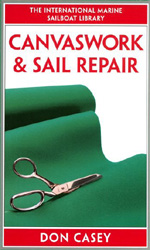 Canvas Work & Sail Repair, by Don Casey

HC, 7 1/2 x 9 1/4, 144 pp., index, 1996. Step-by-step, picture-by-picture how to measure for, construct, modify, renew and repair canavs items such as dodgers, biminis, sail covers, sail bags, cushions and more above decks and below. Also how to repair and improve sails.
---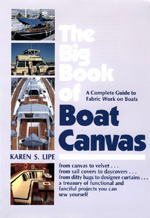 Big Book of Boat Canvas, by Karen Lipe

PB, 7 x 10, 242 pp., index, 1988. 36 projects for power and sailboats. Hatch covers, dodgers, dinghy covers, much more. Excellent drawings & instructions.
---