It depends...but this one may be it!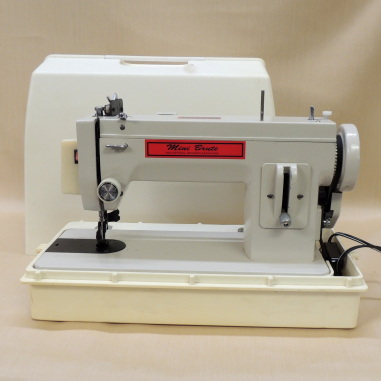 I get asked a lot about what kind of machine is best for sewing sails and marine canvas. That depends on how you answer these questions:

Are you going to sew or repair sails? Sails are traditionally sewn with a zig zag stitch. It started in the old days when cotton was the fabric of choice. It was believed that by using a zig zag stitch the seams were able to stretch almost as well as the fabric in the rest of the sail. That is, the seams weren't as constricted as if a straight stitch was used. These days, sailcloth has very little to no stretch. I don't think it is necessary to sew sails using a zig zag stitch. The machines are are more expensive to buy and harder to keep in time than a straight stitch machine. But, if you want your sails to have the traditional look, then by all means get a zig zag machine.

Do you need a portable machine? Consider how much (if at all) you'll be carrying your machine around. When I lived aboard while traveling, I needed a machine that didn't take up much room. Now, I still live aboard, but I have a shop where we have several commercial machines to choose from. We do, however, occasionally take our Mini Brute to the boat we're working on when it's easier to sew there than bring the canvas back to the shop.

Do you need a walking foot? For sewing canvas, a straight stitch machine with a walking foot is your best option. The walking foot is indispensable for sewing large heavy canvas and vinyl. A straight stitch machine is more powerful, less complicated, easier to keep in time and is able to sew through thicker, heavier fabric than a zig zag machine. If you have room, get a regular commercial non-portable machine. (A servo motor is the preferred choice over a clutch motor, but you can change one out for around $200.) Watch Craig's List or other media advertising used machines. I once ran a wanted-to-buy ad and was able to buy an old Singer 111W for $100. My friend Sharon just bought her "dream machine", a barely used $3,000 Pfaff 1245 for $1,100. She found it on Craig's List.

Can Mom's old home sewing machine do the job? Probably. Many of our customers use home machines. There are tricks you can use to keep the thickness to a minimum. Be sure to use the correct size needle with the thread. Set the pressure foot on the highest setting (most pressure). Older machines with all metal parts are your best bet. I sewed for years with an old Pfaff 130 (a home zig zag machine) that I coaxed into sewing through almost everything.

If you are looking for a portable straight stitch machine with a walking foot, our Mini Brute is a good one!

Until next time, happy sewing!

Jean Carroll

P. S. We're still offering free shipping to US addresses on orders over $100. That includes free shipping on the Mini Brute!